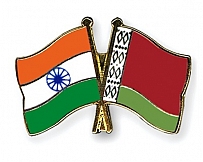 According to the results of the forum companies and organizations of two countries signed a range of bilateral agreements and contracts. It is important to note that there was signed memorandum of cooperation between "Gomselmash" and company "DVR Infratech Private Limited".
1th June representatives of the Indian company visited with a business trip OJCS "Gomselmash". They discussed possibility of establishing a joint assembly plant on the areas of Indian company.
These days in Belarus with an official visit was a delegation of the Republic of India headed by President Pranab Mukherjee. On the eve of his visit he gave an interview to BelTA in which he noted the importance of establishing of joint ventures in India.