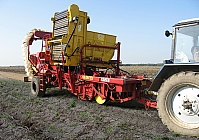 PT25 and PT23 comply with the requirements of harvest tecnology needed for succesful time efficient harvesting. These machines makes the proccess cost effective and comfortable meanwhile high productivity of machines makes them in-demand for farms with well-developed potato growing .
Combine works at fields with 70–75 and 90 centimeters inter-rows and equiped with sorting tables with working places for a staff.
Semitrailed potato harvester PT25 has a tank with capacity of 2000-2500 kg, and can be agregated with wheeled tractor of 1, 4 drawbar category.
Semitrailed potato harvester PT23 is used for potato harvesting on fields with high yield per unit (300 centner/ha or more), can be aggregated with wheeled tractor of 2 drawbar category. The harvester has a tank with capacity of 4500-5000 kg, strengthened, more solid base construction, strengthened rail of wheeles and tires of higher carrying power.
Using a set of adapters KAN, which can be purchased on request, machines can be used for onion and table beet harvesting. Adapters are placed on receiving-digging part of combine.