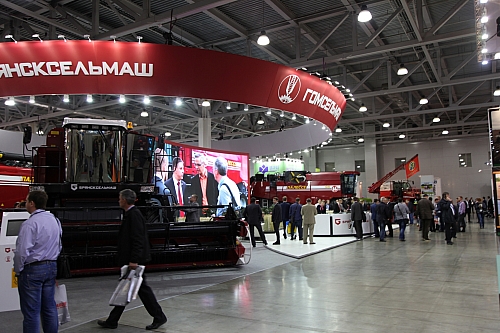 More than 500 companies from 26 countries represented their innovative and advanced products and the flagship machinery. Joint exhibition stand of "Gomselmash" with its lead partner in Russia – CJSC JV "Bryanskselmash" was presented among them. The delegation included more than 60 delegates.
New models of PALESSE series: grain harvesters GS16, GS12A1, GS575, and a self-propelled mower CS100 attracted the attention of the visitors. About 40 delegations from various regions of the Russian Federation appreciated the stand of holding "GOMSELMASH" at the highest level. Well-known models, such as forage harvesters FS80, FS8060 and grain harvester GS10 also were very popular between the guests.
At the meeting with directorship of agricultural machinery manufacturers the head of Ministry of Industry and Trade of the Russian Federation, Mr. Denis Manturov noted that agricultural production demonstrates the growth. According to him, it is connected with implementation of the government subsidy program for manufacturers. By the way, forage and grain harvestering machinery of "Bryanskselmash" are available now in Russia at a discount of 25-30%, according to the federal subsidy program.