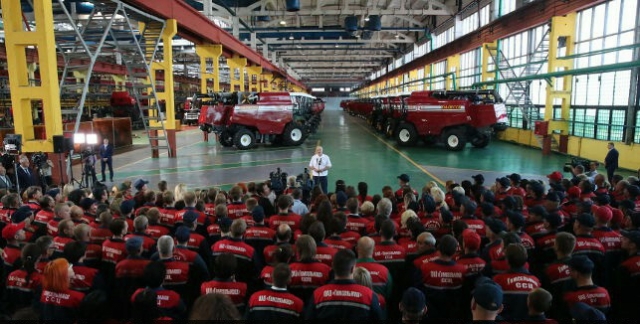 The President got acquainted with the model range of PALESSE machinery at the permanent exhibition of holding "GOMSELMASH". Alexandr Lukashenko gave special attention to the combine harvester he charged to create – PALESSE GS2124.
It took less than one year from the President`s problem setting to create a world class machine to its field tests. The combine PALESSE GS2124 was represented for the first time to wide audience in the early June at exhibition "BELAGRO-2018".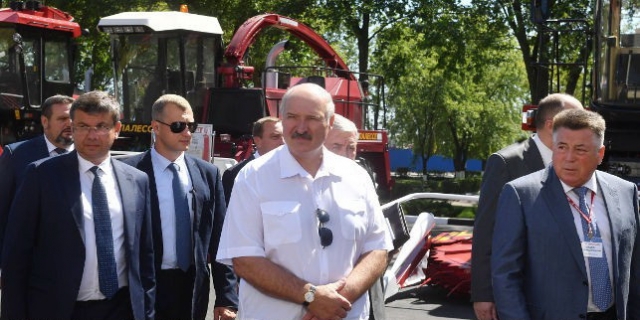 This modern combine is equipped with the systems of automatic driving and precision farming, which calculates the amount of harvest taken from determined section and then forms the map of the field yield productivity.Autocontour copies the field contour for automatic adjustment of the header. The system of remote monitoring for example provides a possibility to send an alarm message to the maintenance service center. Thanks to the system of video visibility it is much easier to control the zone of grain unloading. The straw separation system provides a possibility to work at higher speeds – up to 6-8 km/h (against standard 3-3,5 km/h).
At the moment three preproduction prototypes of GS2124 undergo tests on the Belarusian fields and the President promised to test-drive the "super combine" personally on the fields of OJSC "Aleksandriyskoe".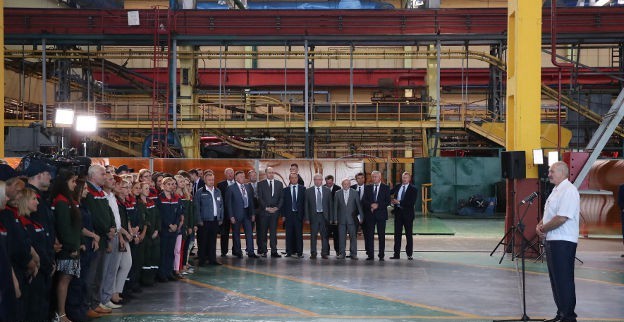 The next "station" of Chief of State was acceptance assembly line where Aleksandr Lukashenko gave attention to the quality of assembled machines and to the process of the used harvesters recovery. He also made a small talk with the employees of the holding "GOMSELMASH" and answered their questions of interest.