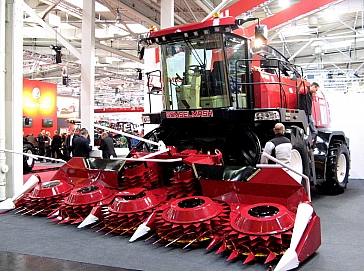 Traditionally, holding "GOMSELMASH" featured in the European exhibitions grain harvesters, but for «Agritechnica 2015» it was decided on forage harvester in modification for EU countries. Holding presented highly-productive forage harvesting complex "PALESSE FS8060", which fully conforms to ecological standard Stage 4.
German farmers, as well as visitors from other countries demonstrated interest towards this machine. At the moment the harvester undergoes certification against European standards, after that it is expected to make first supplies to the EU.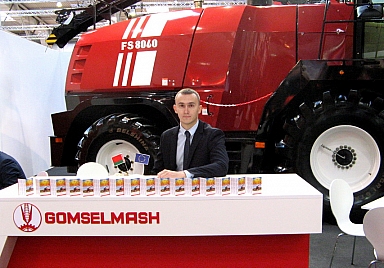 At the exhibition the specialists of holding "GOMSELMASH" discussed topics such as amplification of supplies of equipment and service parts to the filial branch in Czech Republic «Gomselmaš» o.z., cooperation regarding sales of agricultural machinery, perspectives of organizing distribution network and assembly plants with representatives of different companies from Germany, Italy, Romania, Bulgaria, Moldova, India, Mexico, Turkey, Egypt, China and other countries. Also were held negotiations and made a presentation of machinery for delegations and specialists of agricultural enterprises from Germany, Czech Republic, France, The Netherlands Austria, Denmark< Great Britain, Ireland, Lithuania, Poland, Sweden, Hungary, Romania and other countries of the EU.