Professional audience of the exhibition checked to see that "Gomselmash" persistently amplify model range of its production: grain harvesting, forage harvesting, potato harvesting machinery, and also mounted equipment and adapters.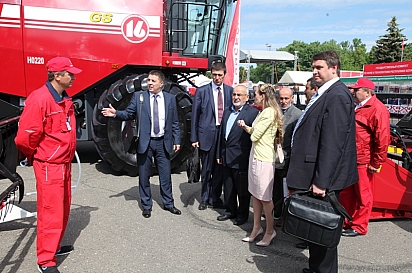 The exhibition was held in the same dates as the 3-rd Forum of the regions of Belarus and Russia in Minsk. President of the Republic of Belarus Alexandr Lukashenko and President of the Russian Federation Vladimir Putin, Speakers of Parliaments of both countries, Prime Minister of the Republic of Belarus Andrei Kobiakov, ministers and parliamentarians, Forum of regions participants visited the exhibition. And of course it was a big pleasure to see at the stand of "Gomselmash" businessmen, senior management and specialists of agricultural enterprises from different countries, principals and professors from agrarian educational institutions.
Visit to the exhibition "BELAGRO" was also included in business visit to "Gomselmash" program of top management delegation of agricultural machinery producers Cluster "KONTARKUM" (Konya, Republic of Turkey). Cooperation with Turkish businessmen has developed in the recent years with the active support of Embassy of the Republic of Belarus in Turkey/
Turkish guests got acquainted attentively with the harvesters "PALESSE" at the exhibition in Minsk, and following the program of the visit at the same day arrived at "Gomselmash". In Gomel the businessmen, after production tour signed Memorandum of intent on creation of a joint assembly plant in Turkey. From the Turkish side the document was signed by Mehmet Chalmaz - head of the Managing Board of Cluster "KONTARKUM".