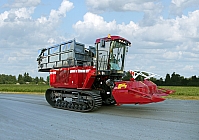 Harvester FS6033C cuts maize (in any ripeness stage), sorghum, sunflower and other rough-stemmed crops, mows grass and pickups swaths of slightly dried seeded and natural grass with simultaneous chopping and loading directly into vehicle or storing of chopped silage in the bunker followed by unloading into vehicle.
Forage harvester PALESSE FS6033C is equipped with caterpillar tracks with reinforced rubber tracks and storage hopper with the unloading conveyor, designed special for forage conservation in areas with high soil moistening. In such circumstances, when the forage fields are impassable for vehicles, harvester provides conservation of milled forage with its storing in the bunker, and the mass unloading from the bunker into the body of vehicles takes place at the edge of the field.
By normal bearing capacity of the soil the unloading can be done directly through silage duct into the body of the moving beside vehicle or tractor trailer. Separate hydraulic drive of each track provides the harvester high maneuverability.