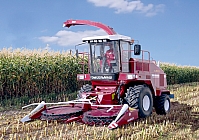 GOMSELMASH FS80 is effectively used in farm units with medium and large volumes of forage. With its powerful direct drive of feeding unit from the engine crankshaft, harvester achieves balance of throughput and power consumption. The performance of the harvester increases also due to the direct-flow line of chopped silage.
Harvester adapters create necessary conditions for high-performance and high-quality grinding: rotary header takes cornstalks exactly in the direction of the feeding unit and the pick-up because of its construction provides short cut of picked weight to the rollers.
Protection system of feeding unit, automatic knifes sharpening and equipment for conserving agent adding in mass flow are included in the standard equipment.
Cabin with climatic control, heater, comfortable seat provide the necessary level of operating comfort.
ADVANTAGES:
Applied design solutions, reliable and fuel-efficient engine with a capacity of 450 h.p., components with a high engineering level - everything is designed for stable operation of the complex in the most difficult conditions with high quality of chopping.
High hydraulics ratio of the machine provides technologic reliability meanwhile quick adjustment of working elements from the cabin saves time. Hydraulic gear of feed unit with stepless regulation of cut length from operator`s working place, carriage hydraulics, hydraulics of working elements and steering control are applied in the construction of self-propelled chopper.
Spacious cabin "Comfort Max" provides perfect panoramic view of a working area with any adapters, solid protection from heat, cold, vibration, noise and dust. Conditioner, heater, auxiliary seat, cooling box for drinks, sun blind are already in standard equipment of cabin GOMSELMASH FS80. Work chair and steering tube thanks to the control system is perfectly adapted for the operator of any height and bodily constitution.
Complex GOMSELMASH FS80 is equipped with a pick-up with gauge wheels. The field relief is copied accurately and without damaging of the root system. The design of the pick-up provides the shortest cut of haylage to the feed unit improving the stability of the pickup. The pickup device is compact located under the auger, so by reverse of feed unit roller the haylage is removed directly on the field and do not require additional clearing.
Rotatory header for harvesting rough grasses cut corn stalks cleanly and on the same height. Stalks are conducted to the feed unit from their bottom side, which prevent the losses of earcorns and leaves a field perfectly clean. While harvesting of wax ripened maize with tough stalks, quality of cut and feed consistency of the masses remain stable.
While harvesting of wax ripened maize corn crusher unit starts to work. It`s toothed rollers intensively mill grain providing high quality of the forage.
As an option complexes are equipped with grass headers which enable to get high quality forage from milk ripened plants, which provides moving and chopping of green feed in one operation.
Emission accelerator enables to keep up a high rate of work. Sledge stream of chopped silage fill tight body frame of vehicles, which guarantees maximum use of it`s volume and gives an opportunity to reduce the number of transportation passages.
In GOMSELMASH FS80 is applied straight-through arrangement of mass flowing - this is the shortest cut from the feed unit roller to the silage guide with increasing flow rate. Such a scheme defines high capacity with minimum fuel consumption. Chopping unit is the main working element of forage harvester and a major energy consumer. Therefore his driving gear is carried out directly via a long belt driving from the engine shaft. The main driving belt is in constant tension which provides long service life.
Smooth adjustment of cut length can be made from the cabin using controller on the operating desk in two ranges 6-8 and 11-15 mm (with 40 knives). There is also an opportunity to work with 20 knives on the drum for chopping in larger slices.
40 knives placed in 4 rows on the chopping drum are set to an angle towards the shear bar. It provides a clean beveled cut and let save energy. Because of sharp angle of bevel the knives moves the masses from the edges to the center of drum reducing this way both rubbing on the walls and bearing load.
Grinding of knives of chopping drum can de done on an automatic basis. It provides high quality of chopping, raise of an output per shift and decrease in fuel consumption.
The protection system of the chopping unit, incoming in standard equipment of harvester, prevents damage of the chopping drum knifes with foreign objects. The degree of sensitiveness of the protection system is installed from the cabin. Sensors of metal and stone detector provide signals to the electronic module of control panel located in the cabin. The system responds instantly, automatically disconnects the shaft drive of feed unit and stops the mass flow. By turning-on of the electric-hydraulic reverse system the foreign object is quickly removed.
Improving of feed storage quality helps usage of system for conserving agent adding which is already included in standard equipment of GOMSELMASH FS80-5.
The capacity of the fuel tank provides 10 hours of the complex running. Cleaning of the complex, heat radiator unit, filters, cabin from dust and dirt is possible with help of using pneumatic system equipped with two receivers of 80 liters.
Silage duct with steering angle of 210° enable to avoid sophisticated maneuvering. Another advantage which enable to reduce operating costs - is a possibility to change not all the silage duct, but only easy removable sheets in it`s bottom if it is necessary.