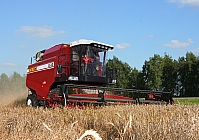 GOMSELMASH GS10 by productive capacity takes place at the upper line of middle class. Thresher 1500 mm width with one big drum, five keys straw shaker and three-stage purifying system - thanks to these solutions and by carefully selection of engine, combine surely show the effective work at the wide range of yields. Quality of harvesting operations is supported by the high level of automated control.
Fully opening side bonnets, convenient access to units and devices, compressor in standard option allow to reduce time for maintenance.
Using GOMSELMASH GS10, besides harvesting of cereal crops, with adapters for harvesting of different crops enables to increase seasonal capacity from 180 to 300 hours, which ensure reduction of direct operating costs per operating unit not less than 1.4 times.