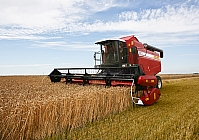 GOMSELMASH GS12 – high productive grain harvesting combine with 1500 mm width of threshing-separating device, in which applied acceleration of the grain mass flow before threshing.Distinctive feature of GOMSELMASH GS12 thresher is big diameter of pre-accelerator and threshing drums (600 and 800 mm) - bigger than in any other similar type of thresher.Harvester demonstrate stable threshing while harvesting of «difficult», clogged, high straw and wet grain crops. Special all-wheel drive version of combine effectively use on soils with low supported capacity.
Easy access to units and devices, compressor in standard option allow to reduce time for maintenance.
Performance of the combine increases by use of additional adapters for harvesting of different crops, by re-equipment of thresher (for harvesting of corn and sunflower), thresher and chassis (for harvesting of rice).
Depending on markets preferences harvester can be equipped with engines of different manufacturers.