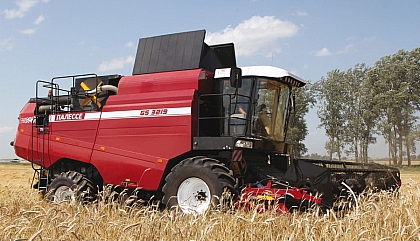 Grain harvesting combine GOMSELMASH GS3219 - combine with a "two drums plus two rotors" scheme.
Well-approved two-drums threshing system with acceleration of the grain mass before the supply for the threshing drum demonstrates its advantages in the GOMSELMASH GS3219 model. Scratching of the mass with the blades of accelerator drum makes the flow regular and constant. Together with a high speed it provides not only fast and careful threshing, but also high efficiency of the following processes.
The separation system of remaining grain on GOMSELMASH GS3219 combine is represented by two rotors, which rotate towards each other. Rotary straw separators guarantee a fast moving of the mass between rotors and concaves. High centrifugal force provides a quick separation of grain, which significantly improves the productivity of the combine.
The beater divides the mass in two flows and passes it to the both rotors of the straw separator – that guarantees effective separation. Being "covered" with the concaves, the rotors rotate in reverse directions. From the grain board to the shaking board, and only after it – to the cleaning cascades. This passage of grain mass from rotors to the shaker reduces the pressure on the cleaning system and helps to avoid blockings.
Original constructional decisions and arrangement of the combine working systems provide maximum results by reasonable power consumption, which guarantees low costs of grain production.
Information-control system that bases on onboard computer includes wide range of functions: automatic control, diagnostics, detection, warning and notification about abnormal performance. The system provides implementation of adjustment and fine tuning of working elements for various crops and conditions of harvesting.
Spacious cab with a perfect vision is fitted with everything required for a comfortable work of combine operator. Powerful electric lighting system guarantees an outstanding observability while working at night.
KEY ADVANTAGES OF GOMSELMASH GS3219