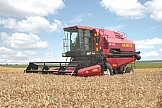 PALESSE GS575 – grain harvesting combine of «economy class» for small and medium-sized enterprises, which need compact and maneuverable technique.
Classical thresher of 1200 mm width with big drum is reliable and unpretentious. Stable separation and high quality of grain are provided by use of four keys straw shaker and three stage separation.
Single cabin of simple design with analog devices, which display data of automatic control system, provides quite fit working conditions. These are seat of enhanced comfort, air conditioner, good overview of header working area.
Besides headers with 4 meters and 5 meters coverage width, provided modification of harvester, which can be equipped with 6 meters header for soya and cereal crops. Possibility of mounting of engines with different power allows to take into account wishes of farms with differences in acreage size and grain yield.