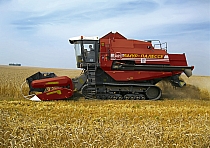 GOMSELMASH GS812 – classic single drum harvester of middle class with 1200 mm width of thresher and 4 keys straw shaker. Reliable technological scheme and low operating costs make GOMSELMASH GS812 as optimal solution for farms with low and average grain yield. Advantages of traditional construction are supplemented by modern comfortable cabin and automatic control system on basis of onboard computer.
Modification GS812S differs by chassis with rubber reinforced tracks, which allow effectively using on soils with low supported capacity. Harvesteralsocan be equipped with straw stacker. Depending on markets preferences harvester can be equipped with engines of different manufacturers.
Harvester can be equipped with engines with different power and headers with different coverage width – this allow to take into account wishes of farms with differences in grain yield and production volumes. The use of special adapters for harvesting of different crops expands potential of GOMSELMASH GS812, increases annual capacity and reduces payback period.