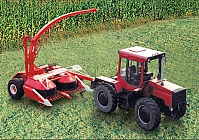 Pull-type forage harvesting combine FT40 is used for mowing down corn, in stages of wax and full ripeness of corn seeds, sorghum, sunflower and other high-stemmed crops, for mowing down grass and picking up dried seeded and natural grass from swaths with chopping and loading of the mass into transport trailer.
FT40 is equipped with pull-type chopper, rotor-type header for harvesting of rough-stemmed crops, header for grass harvesting and pick-up.
FT40 can be aggregated with 2-4 power class tractors. For this reason the combine gives real opportunity to produce chopped forage and give a full load of work to available tractors.
Disk-type chopper ensures high quality of forage chopping and corn seeds cracking. High level of green mass chopping improves loading process into trailer with chopped mass and decreases the number of trailers used for transportation.
Stone and metal detectors reliably protect feeding-chopping device form the hitting of extraneous metal objects, large stones and prevent emergency breakages.
High power ratio of FT40 combined with simple and solid technical plan assure effective production of haylage, silage and additional green feeding. Universal pull-type machine enable to aggregate combine with various models of tractors without any additional tools.