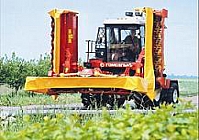 Mower is intended for cutting of green seeded and natural grass with simultaneous flattering and laying of mowed mass into three swaths. Mower can be used for cutting of grass without flattering with the laying of mowed mass in swaths.
Mower operates with the universal power vehicle GOMSELMASH 2U250A, GOMSELMASH 2U280A and their modifications as well as with tractors Belarus-2522, Belarus-2822, Belarus-3022, Belarus-3522.
High performance of mower allows the execution of works in a short period of time, flattering and loose laying in swaths forward the process of drying at that saving the time and reducing the number of production steps. The degree of flattering is adjustable and allows to choose the operating mode for different crops and harvesting conditions.
Each of three sections of mower independently copies the field relief. The rotary cutterbar provides quality close cut. Large width and high power provide high performance of mower.