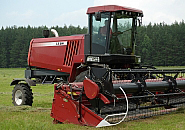 The use of self-propelled mower "PALESSE CS-200" let effectively handle a problem of two-stage harvesting of headed grain, grain legumes, cereal crop and also forage conservation from grass. Mower with swath transportation header (with coverage 9,2 m) provides plant mowing with central left or right swath laying, also is able to form double swath with width up to 4 m from two passages. For grass mowing, besides the swath header, provided the possibility to work with rotary header of 4 m width.
Spacious cabin of driving chassis equipped with conditioner, comfortable working seat on air suspension, auxiliary seat, handy control board and on-board computer. Mechanic is able to choose cutting height, to change speed of sickle knives, to change speed and direction of conveyer belt from the cabin.
High power ratio (engine of 200 h.p.) and rapid cutter bar guarantee high productivity of self-propelled mower on cutting various crops.