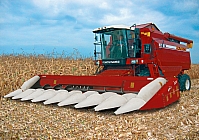 The product range of the holding "GOMSELMASH" presents headers for corn harvesting delivered in a set with harvesters, as well as separately. Grain maize is harvested using this equipment. Both design of the headers and corn harvesting technology conform to generally accepted international standards.
Among the peculiarities of the equipment produced by holding "GOMSELMASH" should be emphasized the following:
headers for corn harvesting can work with different equipment (harvesters and other specialized equipment);
thanks to availability of the extensive network of official representatives of the plant there is no problem with the service of this equipment;
kits which include the headers, provide high-quality and fast grain maize harvesting. Depending on the modification of the unit, they provide cutting from 6 to 8 rows in one operation. In this case the operating speed can run up to 10 km/h.
Headers as well as other units of the holding "GOMSELMASH" are reliable and simple in use.